North Dakota Rx Assistance Programs
CHIP
North Dakota Rx Card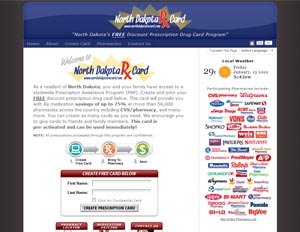 Cost
No cost.
Eligibility Requirements:
The program is open to all residents of the state of North Dakota.
Description:
North Dakota Rx Card is a free prescription assistance program available to everyone living in North Dakota. The program was launched to help the uninsured and underinsured residents of North Dakota gain access to significant savings on prescription medications at their local pharmacies.
No personal information is required to join the program and there are no enrollment forms, no eligibility requirements, and no restrictions of any kind. The North Dakota Rx Card provides discounts on both brand and generic medication with an average savings around 30%, with some discounts as high as 80%. The card is accepted at CVS/pharmacy, as well as over 68,000 participating pharmacies across the country.
The North Dakota Rx Card is a simple solution to the confusing maze of discount programs that have appeared in recent years. Residents of North Dakota can obtain a pre-activated free Drug card, search drug pricing, and locate participating pharmacies by visiting www.northdakotarxcard.com.
Prescription Connection for North Dakota
Healthy Steps Program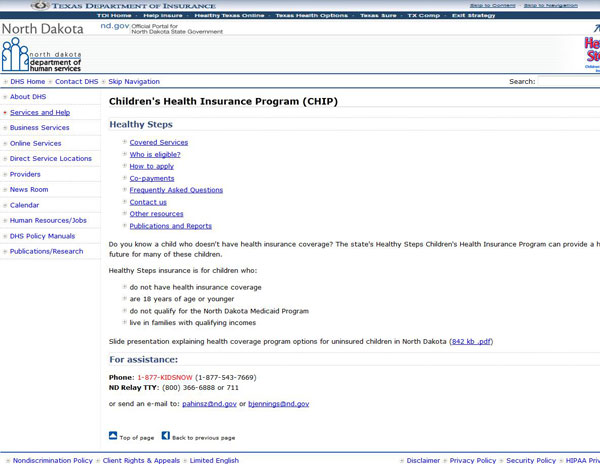 Cost
free or at a reduced cost
Eligibility Requirements:
To qualify for Healthy Steps, children must be age 18 or younger and reside in the state of North Dakota. Children that currently have other health insurance or qualify for Medicaid are not eligible. Families must meet income eligibility guidelines and children must be a U.S. citizen or qualified alien. Income requirements are based on 140% of the federal poverty level.
Phone Number:
(888) 222-2542
Description:
Do you know a child who doesn't have health insurance coverage? According to estimates, about 10 percent of the children in North Dakota are uninsured. The state's new Healthy Steps Children's Health Insurance Plan can provide a healthier future for many of these children.