Indiana Rx Assistance Programs
Indiana Drug Card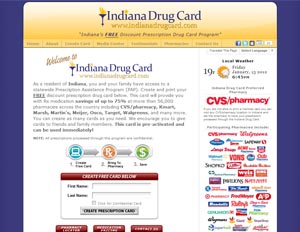 Cost
No Cost.
Eligibility Requirements:
The program is open to all residents of the state of Indiana.
Phone Number:
(888) 446-3979 (888-4-INDYRX)
Description:
The Indiana Drug Card is a FREE prescription assistance program that is available to all residents of the state of Indiana. The Indiana Drug Card was launched in July of 2009 to help the uninsured and underinsured afford their prescription medications. Those with insurance can also use the program for medications not covered through their pharmacy benefits. Additionally, those with health savings accounts (HSA) or high deductible plans can use this program to help reduce out of pocket costs.
The Indiana Drug Card is now working with the Indiana Association of Cities and Towns. No personal information is required to join the program and there are no enrollment forms, no eligibility requirements, and no restrictions of any kind. Average savings using Indiana Drug Card is about 30% but some may see savings as high as 80%, depending on the medication. This card is accepted over 68,000 pharmacies nationwide. This Program is not insurance.
The Indiana Drug Card is a simple solution to the confusing maze of discount programs that have appeared in recent years. Residents of Indiana can obtain a pre-activated free Rx card, search drug pricing, and locate participating pharmacies by visiting www.indianadrugcard.com.
Hoosier Healthwise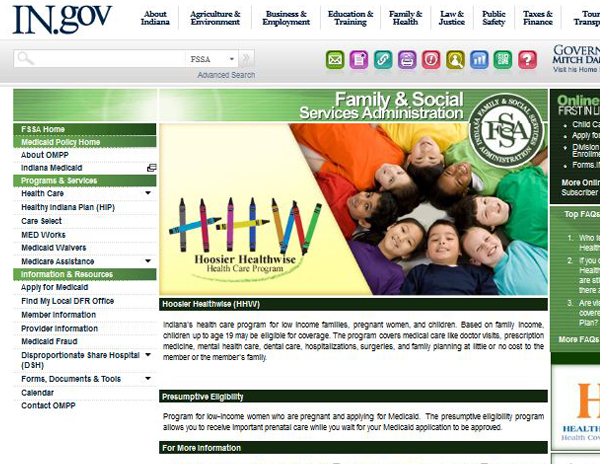 Cost
$0 to $70
Eligibility Requirements:
Hoosier Healthwise is Indiana's health care program for children, pregnant women, and low-income working families. Based on family income, children up to age 19 may be eligible for premium-free coverage, or low-cost coverage under the Children's Health Plan - Benefit Package C (www.in.gov/fssa/ompp/2545.htm ) For package C, monthly premiums range from $22 to $53 for one child, and $33 to $70 for two or more children. Pregnant women can be eligible for full coverage under Package A, or for pregnancy-related coverage under Package B, depending on family income and assets. Low-income families can be eligible for Hoosier Healthwise Package A, if there are children under the age of 18 living with their parent(s) or other caretaker relative. Young adults 18, 19, and 20 who live with a caretaker relative who meets the financial requirements can be covered; however their caretaker relative is not eligible.
Phone Number:
(800) 889-9949
Description:
Hoosier Healthwise is a health insurance program for Indiana children, pregnant women, and low-income families. Health care is provided at little or no cost to Indiana families enrolled in the program. The enrolled member chooses a doctor to get regular checkups and health care for illnesses. Other health needs such as prescriptions, dental care, vision care, family planning services, and mental health services are also available as part of the Hoosier Healthwise program. Call 1-800-889-9949 to get information about the Hoosier Healthwise program or choose one of the items below.
HoosierRx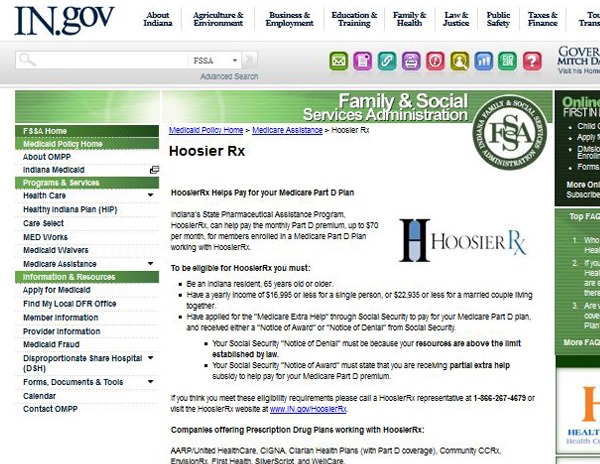 Cost
up tp $70 per month
Eligibility Requirements:
Be an Indiana resident, 65 years old or older. Have a yearly income of $16,485 or less for a single person, or $22,095 or less for a married couple living together. Have applied for the "Medicare Extra Help" through Social Security to pay for your Medicare Part D plan, and received either a "Notice of Award" or "Notice of Denial" from Social Security. Your Social Security "Notice of Denial" must be because your resources are above the limit established by law. Your Social Security "Notice of Award" must state that you are receiving partial extra help subsidy to help pay for your Medicare Part D premium.
Phone Number:
(866) 267-4679
Description:
Indiana's State Pharmaceutical Assistance Program, HoosierRx, can help pay the monthly Part D premium, up to $70 per month, for members enrolled in a Medicare Part D Plan working with HoosierRx.
Medicaid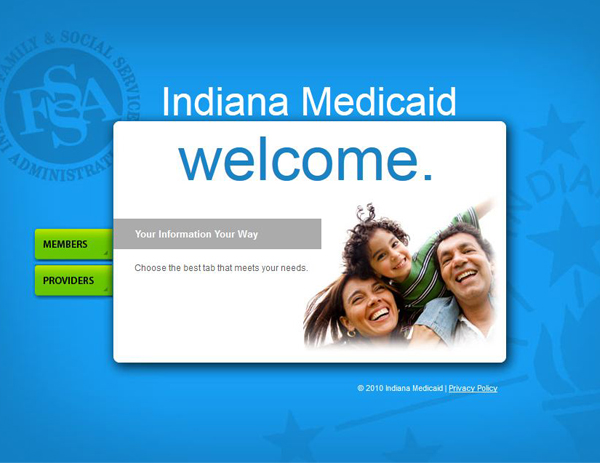 Cost
free or at a reduced cost
Eligibility Requirements:
Medicaid eligibility is determined by several factors and can be complicated. There are many categories of eligibility and several different Medicaid programs. Please review all of the eligibility information and if you think you may be eligible, the best thing to do is apply. While different Medicaid programs have different eligibility criteria, in general four main criteria are used to determine eligibility. -Income/Family Size: Both earned (wages from a job) and unearned income (Social Security Disability payments). Income limits are adjusted to account for the number of people in your family. -Age: Eligibility criteria can be based on age. Certain programs are designed for people in specific age groups. -Resources/Assets: Certain things you have are taken into consideration when determining eligibility. Different programs count different resources/assets. - Medical Needs: Specific medical needs may determine your eligibility and they may also determine which program can best serve your needs. Some programs are designed to meet the medical needs of a targeted group.
Phone Number:
(317) 713-9627