Arkansas Rx Assistance Programs
ARKids First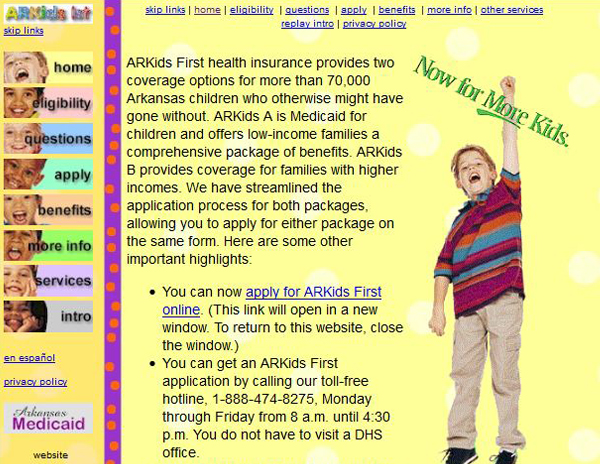 Cost
Low Cost
Eligibility Requirements:
If you are applying for ARKids A or ARKids B, your assets will not be considered. ARKids B is available to children who do not have employer-sponsored or group health insurance and have not had insurance for six months. If you have lost insurance involuntarily, your children may be eligible for insurance immediately.
Phone Number:
(888) 474-8275
Description:
ARKids First health insurance provides two coverage options for more than 70, 000 Arkansas children who otherwise might have gone without. ARKids A offers low-income families a comprehensive package of benefits. ARKids B provides coverage for families with higher incomes.
Arkansas Medicaid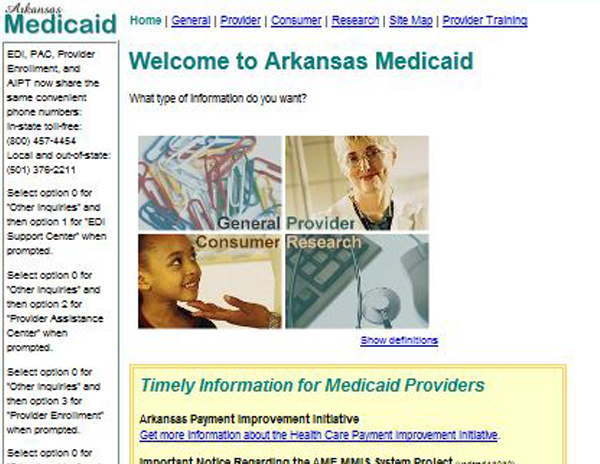 Cost
free or at a reduced cost
Eligibility Requirements:
To apply for Medicaid, go to the Department of Human Services (DHS) office in the county where you live. If you are not able to go there, you may have a relative or a friend apply for you. You must sign an application form and give certain information about yourself and your family. The county office will determine your eligibility.
Phone Number:
(501) 682-8501
Arkansas AIDS Drug Assistance Program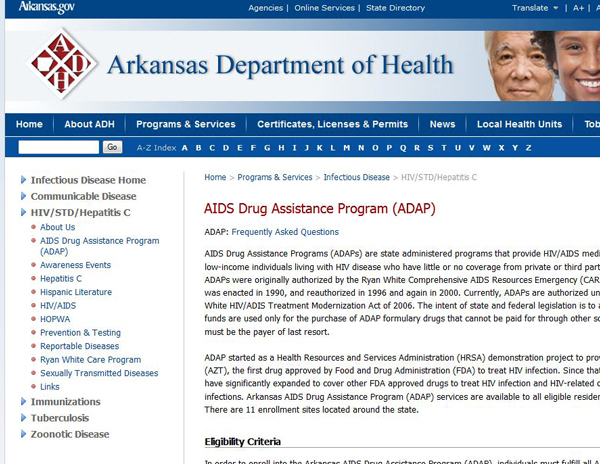 Cost
No cost.
Eligibility Requirements:
ATTENTION: YOU MUST BE HIV POSITIVE TO BE ELIGIBLE FOR THIS PROGRAM. Iincome must be at or below 300% of the current Federal Poverty Level, excluding Medical Expenses Clients who are chronically infected (duration of infection presumed to be > 6 months based on exposure history, clinical findings, CD4 count) with HIV, who are ineligible for Medicaid, must meet at least one of the following criteria: - Symptomatic AIDS or, - Baseline (pre-treatment) CD4+ T-cell count - Baseline (pre-treatment) HIV viral load > 55,000 (RT-PCR) or >30,000 (bDNA) Pregnant HIV-infected women are eligible regardless of CD4 count and viral load. Clients who are acutely infected (duration of infection presumed to be When situations occur where the clinician believes that antiretroviral therapy is indicated for a client who does not meet any of the above criteria. The Medical Director of the HIV/STD/TB Team will review the case and determine the appropriateness of eligibility. In the event that clients have to be triaged because they have just been released from the hospital, prison, or are moving into the state, every effort will be made to provide medications; particularly for those who are very ill and who, in the mind of the clinician, would die soon without medication support. These situations will be monitored and a determination made on a case by case basis. Clinicians may request emergency triage status for clients meeting the following criteria: - CD4 - Recent occurrence (within the preceding 2 months) of a major opportunistic infection or malignancy (category C in the CDC classification). - Drugs provided in an emergency situation will be supplied for a maximum of 60 days, allowing time for application to Medicaid, Patient Assistance Programs, or ADAP.
Phone Number:
(800) 232-4636