Kansas Assistance Programs
HealthWave
Website:
www.kdheks.gov/hcf/medical_assistance/eligibility_children.html
Cost:
No cost.
Eligibility Requirements:
For the HealthWave program, children must not already be covered by comprehensive and reasonably accessible health insurance. In addition, children of Kansas State employees who have access to the State group health insurance plan are also not eligible. A minimal premium is required for families with income above 150% of the federal poverty level.
Phone Number:
(800) 792-4884
Program Description:
HealthWave is a managed care program that covers some Medicaid beneficiaries and all SCHIP beneficiaries through two managed care organizations (MCO): Children's Mercy Family Partners and UniCare Health Plan of Kansas, Inc.
Kansas Drug Card
Website: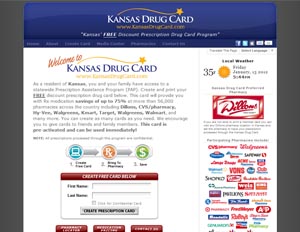 Cost:
No cost.
Eligibility Requirements:
The program is open to all residents of the state of Kansas.
Phone Number:
(913) 638-8415
Program Description:
Kansas Drug Card is the free statewide prescription assistance program available to all Kansas residents. The program was launched in May 2010 to help uninsured and underinsured Kansas residents with their prescription medication costs. Kansas residents with insurance can also utilize the program for their non-covered medications.
Kansas Drug Card works with the Kansas Department of Health and Environment (KDHE) and Health KC, as well as many hospitals and clinics to expand card distribution sites throughout the state. Kansas Drug Card is free for everyone and provides discounts as high as 75% on most brand and generic medications. There are no restrictions or eligibility requirements for the program. The program is completely confidential and all cards are pre-activated, ready for use and do not expire. The program is accepted at Dillons, CVS/pharmacy, Hy-Vee, Walgreens, Kmart, Target, Walgreens, Walmart, along with over 56,000 participating pharmacies nationwide.
With the rising cost of healthcare, the Kansas Drug Card provides a simple solution to the high prices of prescription medications. Residents can print a free pre-activated card, locate participating pharmacies, and search drug pricing by visiting www.kansasdrugcard.com. Those unable to obtain a card can also visit any Dillon's pharmacy location in Kansas and ask to have their prescription processed through Kansas Drug Card.
SHICK
Website:
www.kdads.ks.gov/commissions/commission-on-aging/medicare-programs/shick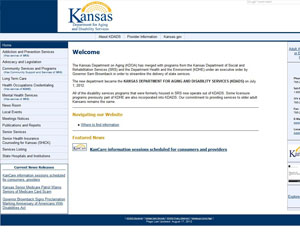 Cost:
free or at a reduced cost
Eligibility Requirements:
Older people from Kansas.
Phone Number:
(800) 860-5260
Kansas AIDS Drug Assistance Program
Website:
www.kdheks.gov/sti_hiv/ryan_white_care.htm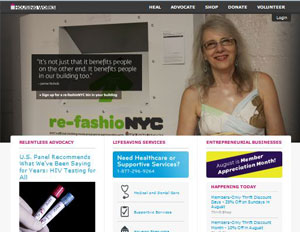 Cost:
No cost.
Eligibility Requirements:
ATTENTION: YOU MUST BE HIV POSITIVE TO BE ELIGIBLE FOR THIS PROGRAM. - must be HIV+ provide his/her doctor's certification of HIV status - income must be at or below 300% of the current federal poverty level - must not be eligible for Medicaid - must be a resident of Kansas.
Phone Number:
(785) 296-8701